News story
Minister on Blue Badge patrol
Robert Goodwill joins Blue Badge enforcement team in Leeds.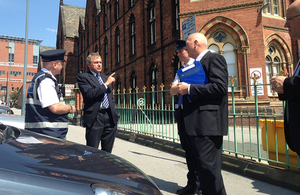 Transport Minister Robert Goodwill visited Leeds today (5 August 2014) to see for himself how new government measures are making it easier for councils to tackle Blue Badge fraud.
Blue Badges provide a vital lifeline to more than 2.5 million disabled people every year by prioritising key parking spaces close to important services. Prior to changes introduced in 2011 there had been very few changes to the system since the 1970s and it had been in need of modernisation.
The minister spent the afternoon with an enforcement team from Leeds City Council on patrol in the city centre.
Robert Goodwill said:
We have brought in major reforms to crack down on fraudsters abusing Blue Badges. Pretending to be disabled to dodge parking fees and restrictions is plain shameful and prevents those who have genuine need for Blue Badge from getting to the parking spots they need.

Our overhaul is helping councils to stamp out fraud. We've made it easier to spot forgeries and prosecute those seeking to abuse the system.
Since the new measures were introduced, councils have been able to easily seize badges which are either fakes or being misused and prosecutions have almost doubled, from 358 in 2010-2011 to 686 in 2012-2013.
The new measures introduced in 2011 include:
the replacement of handwritten badges with standard electronic ones which are harder to alter and forge
providing local authorities with an on-the-spot power to recover badges that have been cancelled and misused
shared administration between authorities - including an online application facility - resulting in faster renewals, reduced abuse and operational efficiency savings of up to £20 million a year
wider use of independent mobility assessments to determine eligibility, including where previously that assessment was carried out by a GP; and support for this by giving local authorities control of National Health Service spend on Blue Badge assessments
extending the scheme to more disabled children under 3 years of age and severely disabled Armed Forces personnel and veterans; and removing residency requirements for disabled service personnel and their families who are posted overseas on UK bases
The Department for Transport is also warning against websites that are charging people to apply for a Blue Badge, when it is free to apply for a badge directly from a local authority or via GOV.UK. Some unofficial websites attempt to charge fees of around £49 for processing individuals' applications.
The Blue Badge is only available to eligible disabled people, providing free on-street parking and access to services and facilities. If an application is successful an administration fee of up to £10 is charged by the council when the badge is dispatched, but there is no fee for applying.
A cross government group has been set up to take decisive steps against misleading websites. A working group led by Cabinet Office Government Digital Service investigates reports of potentially misleading websites and takes swift action where necessary to minimise the impact on customers. The Department for Transport is fully involved in the process.
You can find out if you are eligible and apply for a Blue Badge by contacting your local authority via the GOV.UK website or by calling the Blue Badge initial enquiry support service on 0844 463 0213.
News desk enquiries
Press enquiries 020 7944 3021
Out of hours 020 7944 4292
Switchboard 0300 330 3000
Published 5 August 2014