Minister of State speaks to All Party Parliamentary Group on China
Minister of State Jeremy Browne talks about the UK's strong relationship with China.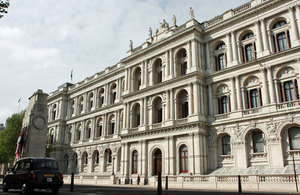 Speaking at the All Party Parliamentary China Group dinner earlier this week in the presence of the Chinese Ambassador Liu Xiaoming, Jeremy Browne said:
"The British Government is looking to develop a closer, more engaged relationship with China. This is not just about governments. Links between parliaments and political parties have an important role to play too."
"There are many opportunities for the UK and China to take forward their shared interests, including deepening our bilateral trade and investment links. As China's economy develops, there is enormous scope for partnerships to deliver benefits for both sides. Education and cultural links will have a key part to play in this. With some 85,000 international Chinese students in the UK, and enormous numbers of people in China learning English, we should be well placed to make the most of the opportunities."
"Amazing change is underway. We are witnessing the transformation from a G8 to a G20 world. We are not resisting this change, but want to be an active partner of the new emerging powers in a way which promotes joint opportunities whilst recognising that there will be issues where we differ, including on human rights and democracy, and how to mitigate and reverse the effects of climate change."
"China has considerable assets to help to solve global problems. I hope that the UK and China can move forward together to create a safer world with less proliferation, better rights for people and where climate change is under control. We look forward to taking forward our shared interests with China."
The APPCG works to support the strengthening of UK-China relations; fostering bilateral dialogue and raising awareness of China and China Related issues in Parliament. The APPCG is one of the largest and active All Party Groups.
Published 25 June 2010