Minister Jeremy Browne speaks about the FCO and Human Rights
At an event hosted by Amnesty International and the All Party Parliamentary Group (APPG), Minister Jeremy Browne spoke about the importance of advancing the human rights agenda.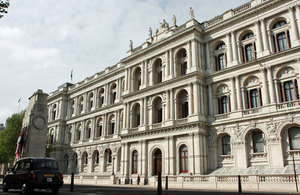 In his speech to the group of representatives from Amnesty International and APPG, the Minister said the coalition Government believes that Britain must always be an active member of the global community, promoting our national interests while standing up for the values of freedom, fairness and responsibility.
He highlighted four main human rights priority areas: political freedoms such as freedom of expression, information and the press; criminal justice, in particular eradication of torture and abolition of the death penalty; work with and through international institutions such as the UN and the EU to enact change; and the right to equality and freedom from persecution regardless of religion, ethnicity and sexual preference.
Discussing political freedoms, the Minister cited the need to be proactive on the issue of freedom of expression on the Internet:
"I want to ensure that the UK plays a leading role in delivering concrete measures. I will be launching work on how the UK Government can best tackle state action against Internet users seen in places such as Iran."
Speaking on advancing the human rights agenda, the Minister spoke of the need to ensure universal values and principles are at the heart of foreign policy, with a focus on clear, practical actions where the most impact can be achieved.
Published 27 July 2010