World news story
Minister Hugo Swire impressed by the business opportunities in Peru
The Minister of State for Latin America, Hugo Swire, releases a video message about business opportunities in Peru.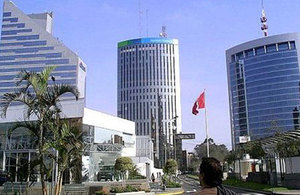 On 13 March the Rt Hon Hugo Swire MP, along with 6 British companies, met Peruvian authorities at the iconic National Stadium in Lima. This is his first visit to Peru.
He explored potential business partnerships in support of Peru's ambitious infrastructure development plan, and in the run up to Lima hosting the Pan American Games in 2019. The Pan American Games are third largest international multi-sport event.
Hugo Swire said:
I've been struck by Peru's ambitious infrastructure plans and its commitment to host successful Pan American Games in 2019.
Minister Hugo Swire impressed by the business opportunities in Peru
If you are a UK company interested in exploring business opportunities in sporting events in Peru, join UK Trade and Investment (UKTI) at Glasgow's famous City Chambers on 25 July for the seminar on sporting events in South America.
The Director of Lima 2019 Pan American Games will present the plans and business opportunities around the Pan American Games.
Published 27 June 2014