News story
Commonwealth Games Business Conference and British Business House
UK Trade & Investment (UKTI) is organising 2 events in Glasgow during the Commonwealth Games as part of an international business programme.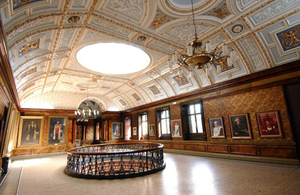 The events will build on the strengths of trade and investment in the Commonwealth and give participants the opportunity to strengthen relationships with senior decision makers from business and government.
Commonwealth Games Business Conference - 22-23 July 2014
The Commonwealth Games Business Conference took place before the opening ceremony of the 2014 Commonwealth Games in Glasgow. It was organised jointly with the Scottish Government and Scottish Enterprise and was held at the University of Glasgow. The event was delivered in partnership with EY.
The event focussed on issues and opportunities common to all countries, such as:
employment and skills
infrastructure development
improving financial services for business
the development of smart cities of the future
Tuesday 22 July 2014
Commonwealth Games Business Conference live stream - 22 July 2014
Wednesday 23 July 2014
Commonwealth Games Business Conference live stream
The British Business House - 23-25 July 2014
The British Business House (BBH) is organised by UKTI and is being held at the Glasgow City Chamber, immediately after the Commonwealth Games Business Conference.
This is the main event of UKTI's Commonwealth Games business programme. More than 400 global CEOs and political leaders will attend the event over two and a half days as part of the GREAT campaign.
The event will demonstrate British business expertise and the UK's inward investment offer through a programme of workshops focused on key sectors.
Wednesday 23 July
13:00 - 15:30
East & West Africa Oil & Gas Seminar and Workshops
This interactive workshop session focussed on local content and education and training in the oil and gas sector.
This session was sponsored by Shell, UK.
Digital Health: Reconfiguring Healthcare Worldwide
The session enabled British businesses to understand key opportunities in Commonwealth markets and decision-makers from Commonwealth government departments to interact with 'the best of' British talent.
This session was sponsored by TPP
Thursday 24 July
10:00 - 12:45
Security Through Partnership
International attendance at the Commonwealth Games offered an opportunity to promote the UK security offer, and to build relations that will have long term benefits for all.
This session was sponsored by Selex ES.
14:30 - 17:00
The Growth of African Cities
Africa is urbanising rapidly and the session highlighted opportunities in transport, construction, water, power and ICT in several growing African cities.
This session was sponsored by Shell, UK.
Agritech: Partnering for Food Security
The session promoted the UK's strengths and capability in agri-technology and how this technology can be used to assist Commonwealth countries with their food security issues.
Friday 25 July
10:00 - 12:45
South American Sport Events Seminar
The session will feature a mix of UK experts and those from hosting cities like Rio to share information about these export markets, forthcoming opportunities and how to navigate the procurement process.
This session is sponsored by Snoozebox.
Space Data for Life
The session will give delegates awareness of the latest UK satellite applications, technologies and providers and an understanding of the economic benefits of applying this disruptive innovation.
14:30 - 17:00
Global Sports Projects – Bid For Benefit
The session will offer a good understanding of the UK's experience in bidding for and hosting global sporting events as well as expert insight into what makes a winning bid.
This session is sponsored by Snoozebox.
Commonwealth Rail High Value Opportunities
This session would showcase the Commonwealth rail high value opportunities in markets including; India, Canada, Singapore - underlining UK sector strengths and capability.
Published 30 April 2014
Last updated 26 June 2014
+ show all updates
Updates to British Business House event and registration links
First published.