Press release
Minister hosts celebration to thank early years providers
Childcare Minister Sam Gyimah thanks childcare providers for helping his 'moral mission' to give the best possible childcare to parents.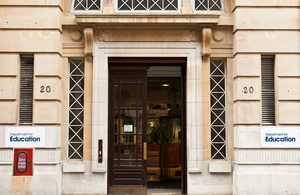 Childcare providers from all over the country were the toast of Westminster yesterday when Childcare Minister Sam Gyimah thanked them for helping his 'moral mission' to give the best possible childcare to parents.
Over 120 early years professionals were yesterday (2 March 2015) guests of honour at the Department for Education reception in Lancaster House.
The guests were thanked by the minister for their role in improving children's futures and implementing the department's policies which have resulted in an unprecedented demand for childcare.
Childcare Minister Sam Gyimah said:
The importance of childcare is huge in a child's development and upbringing – that's why we all have a moral mission to get it right.

As childcare minister, I've been privileged to travel all over the country meeting with providers. The consistently high bar they set made me want to put on an event to say 'thank you' for the work they are doing.

I am very proud of what we have all achieved during this Parliament to make sure parents can make the best possible childcare choices for their families.
During this Parliament, the government has stimulated the market by increasing funding from £2 billion to £3 billion per year and extended the offer of free childcare to 15 hours per week to all 3- and 4-year-olds and 40% of 2-year-olds.
Hani Noor, who has been a childminder for 4 years, said:
I look after 13 children, which includes 5 2-year-olds who are taking up the government's offer of 15 free hours of childcare per week. Starting at 2 definitely has social benefits for making friends, and it also makes them more ready for school.
Also among the attendees were Rob and Sue Jones, who run Evolution Childcare in Warrington. The couple set up their chain of nurseries in 1998 when former Liverpool and England footballer Rob's career was cut short by a knee injury. Since then they have expanded to having a range of sites in England as well as abroad in Dubai.
Sue Jones said:
The 2-, 3- and 4-year-old funding has been fantastic for parents, and the benefits for the children of receiving childcare are huge. They have better social interaction and are more emotionally developed.

I think the event was a really good idea and it again shows that the early years is a priority for this government.
Rob added:
It was lovely to be invited to such a nice place by the minister. It was great to get the invitation and come down and meet so many different types of providers in one place.
Parents will also be able to purchase more hours of childcare thanks to the upcoming introduction of tax free childcare and universal credit.
Providers have been helped by a simplification of regulations that allow successful nurseries to expand more easily.
New childcare businesses have also benefited from a £2 million extension of the government's childcare business grant scheme, which provides grants of up to £500 to help people set up a new childcare business.
Notes to editors
Providers and local authorities from counties including Cornwall, Derbyshire, Devon, Gloucestershire, Lancashire, Merseyside, Nottinghamshire, Somerset, Suffolk, Warwickshire, West Midlands and West Yorkshire attended the event.
During this Parliament, the Department for Education has:
increased spending on childcare from around £2 billion to £3 billion per year
increased the number of children attending registered settings by 200,000 (in 2013 compared to 2010)
committed to introducing tax-free childcare from autumn 2015. This will be open to almost 2 million families and could save a working family up to £2,000 per child per year
enabled organisations to register as childminder agencies which will support new childminders as they start their business and offer more choice for parents
raised the skills and status of early years professionals and created more opportunities for people who want to work in the early years through the introduction of early years teachers and early years educators
announced an extension of the schools pupil premium into the early years that will be worth £300 per eligible child
simplified the regulatory framework and relaxed planning rules so nurseries can expand more easily
encouraged new childcare businesses with a £2 million extension of our childcare business grant scheme, which provides grants of up to £500 to help people set up a new childcare business
made the early years foundation stage slimmer and less bureaucratic through the Tickell Review
DfE enquiries
Central newsdesk 020 7783 8300
General enquiries 0370 000 2288
Published 3 March 2015