Press release
Minister in Liverpool to promote Social Value Act
Minister Nick Hurd will address the Social Value Conference in Liverpool about the Social Value Act and public service delivery.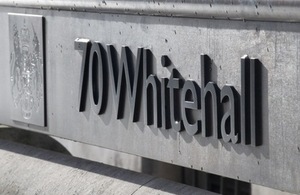 CAB 025-13
Today Minister for Civil Society, Nick Hurd, will visit Liverpool. He is set to address the first ever northern Social Value Conference about the Social Value Act, a ground-breaking new law which will enable Merseyside's communities to benefit from more public services being delivered by local community organisations. He will also visit a number of new initiatives to support Merseyside communities.
The Minister will visit New Horizons in Liverpool, a charity which brings together Greater Merseyside Connexions Partnership (GMCP) with social investors, including Big Society Capital. Social investors provide funding to generate social as well as financial returns. New Horizons will support more than 4,000 vulnerable young people over three years by offering training and mentoring to improve their employability skills and prepare them for the world of work.
Joe Linnane, New Horizons Project Manager said:
At New Horizons we equip vulnerable young people to make and sustain key transitions. A lot of our programme is concentrated around developing the self-confidence of these young people. It's not only about getting young people ready to step into a job, but ensuring they have the necessary qualities, skills and resilience to make it work.
The social investment theme for the day will continue with a round table with Merseyside's Community Foundation to discuss local community organisations that will benefit from a new endowment fund. The national Endowment Match Challenge will see up to £50 million in match funding going to communities across England. Through this initiative, every £2 donated by individuals and businesses will be matched by £1 from government, to invest in the provision of funding for social action projects long into the future. Alongside this is a meeting with Liverpool's Transforming Local Infrastructure Partnership which was awarded £390,063 in April 2012 to fund a project to transform local infrastructure arrangements in Liverpool. The minister will discuss future plans for the city with partners including Liverpool Social Enterprise Network, Liverpool Chamber of Commerce, Liverpool CVS and Merseyside Youth Association and see how social investment is having a significant and positive social impact on the community.
The minister will then take to the stage at Blackburn House for the Social Value Conference hosted by Social Enterprise UK to advocate the benefits of the Social Value Act, which came into force earlier this year and received cross-party support. It opens up more opportunities for social enterprises to deliver public services by ensuring local authorities and other commissioners can procure services with maximum community impact in mind.
Nick Hurd, Minister for Civil Society said:
Social enterprises and voluntary organisations play an invaluable role in society and already deliver first rate public services – but we want them to be able to do more. This new law, the Social Value Act, means that local authorities commissioning public services now have to think harder about maximizing value to communities.

We want to make it as easy as possible for voluntary sector organisations like those I've visited today in Liverpool and others across England get better access to fresh exciting opportunities because their first-hand expertise and knowledge in tackling social problems and running public services can help reform delivery and ultimately achieve greater benefits for our communities.
Peter Holbrook, Social Enterprise UK CEO, said:
The Social Value Act is a tool in commissioners' armoury that, if fully embraced, can ensure the public sector's purchasing power is used to achieve social and environmental benefits alongside financial efficiency. It gives them the green light to choose providers – like social enterprises and charities - that create wealth in communities and tackle pressing social problems in their area.

It is vital that the act is properly implemented and that social value is put at the heart of procurement practices. As well as support from local authorities, civil society organisations and social enterprises require sustainable funding, which is why growing the UK's emerging social investment market can help them continue to deliver quality services, even when mainstream funding isn't an option.
Liverpool Charity and Voluntary Services (CVS) has received £390,063 from the government to help local charities through modernising local charity support services.
Notes to editors
The main provisions of the Public Services (Social Value) Act 2012 came into force on 31 January 2013. Cabinet Office has produced guidance on the act for procurers and commissioners.
The Public Services (Social Value) Act 2012 was introduced as a Private Members Bill by Chris White MP in 2010. It received Royal Assent on 8 March 2012.
VCSE commercial skills masterclasses will be developed and delivered in partnership between government, voluntary and private sector organisations. VCSE organisations will co-ordinate the masterclasses, develop content and make sure they are relevant to the needs of the sector audience. Private sector partners will provide pro-bono commercial expertise and share experiences in tendering for large government contracts.
The National Council for Voluntary Organisations champions and strengthens the voluntary sector, with over 10,000 members, from the largest charities to the smallest community organisations.
Social Enterprise UK is the national body for social enterprise. Social enterprises are businesses that are changing the world. When they profit, society profits. Together with our members we are the voice for social enterprise in the UK. internationally. What unites them is their commitment to changing the world through business.
New Horizons is a programme supported by the first round of Department of Work and Pensions innovation fund contracts.
The Community First Endowment Match Challenge is delivered by Community Development Foundation and UK Community Foundations (formerly known as Community Foundations Network) between 2011 and 2015.
Published 6 March 2013