Minister hails Bristol as the street party capital
Andrew Stunell has hailed Bristol the street party capital of England as a host of community events are held throughout the city.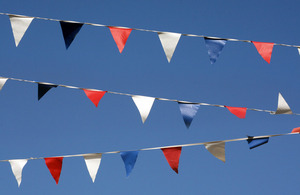 This weekend's street parties will bring the total held in Bristol this year to more than 120, involving over 10,000 people - more than in any year since 1977.
In the past, people trying to organise a small event may have encountered a host of obstacles, including high costs, a multitude of forms and guidelines. Last month Communities Secretary Eric Pickles made it much easier and there is now simple guidance and one straightforward form to fill in.
Mr Stunell said:
"The people of Bristol are clearly converts to the positive impact a street party can have on an area giving opportunities to collaborate and increasing the community spirit - not to mention how much fun they are.
"Bristol has shown that it's a trailblazer in this area. But there's no reason other cities can't follow Bristol's lead. Street parties don't cost councils anything but can help create the strong communities that benefit everyone.
"The guidance and simple form we're encouraging people to use makes it easier than ever for councils and organisers to make parties happen."
Pioneering
Streets Alive, a group that promotes street parties as a way of engaging with local communities, helped facilitate some of this weekend's events, though residents themselves coordinated and funded them.
Bristol City Council's pioneering efforts to make the process as simple as possible have paid off, with the number of street parties in the city growing each year.
Jon Rogers, Cabinet Member for Care and Health at Bristol City Council, said:
"Street parties are an important part of what makes Bristol great. We have cut back on red tape, kept costs down and do all we can to encourage communities to come together in a spirit of celebration. I am not surprised Bristol is leading the country."
Published 4 September 2010