Minister greets Brazilians at successful School Games
The School Games are in full swing at the Olympic Park, and this morning Foreign Office Minister Jeremy Browne welcomed young Brazilian athletes and the Brazilian Deputy Ambassador to the stadium.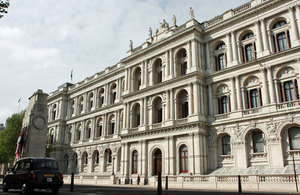 awarded medals to the winners of the Boys' 400m and met with the Brazilian competitors. Brazil is the only overseas nation to send athletes to compete at the School Games, to recognise the fact they are hosting the next summer Games in 2016.
Teams and individual athletes from across the UK have been competing to a very high standard during the School Games, and the Brazilian team has performed well too - they have won a clutch of gold medals, including five in Judo. The young people told the Minister how fantastic it was to be competing at the Park as the part of the last live test before the Olympics Opening Ceremony on 27 July.
Speaking today the Foreign Office Minister said:
"The School Games are an enormous success and we enjoyed welcoming the Brazilian team. As current and future Olympic hosts it is great that we can bring British and Brazilian young people together through sport in this way. I congratulate all the 30,000 young athletes participating on their achievements over the last few days and hope that they will draw inspiration from these fantastic facilities to continue their training to be Olympians and Paralympians of the future."
The UK and Brazil are lobbying the International Olympic and Paralympic Committees to make hosting a national School Games a requirement for all future Olympic host city bids, delivering a long term legacy for youth sport.
Published 9 May 2012