Minister for the Middle East visits Yemen
Minister for the Middle East Alistair Burt will be in Yemen today and tomorrow on his first trip to the region.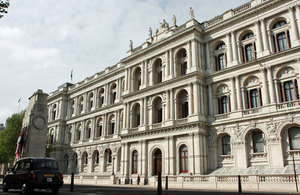 Mr Burt has already met with President Saleh of Yemen, after which he said:
"I am very pleased to be able to visit Yemen and meet with President Saleh so early in my appointment as Minister for the Middle East. The UK's relationship with Yemen is of great importance to me, and I am glad of the opportunity to discuss with President Saleh the common interests we share, including tackling the economic and social challenges that Yemen faces. Working together to address these issues is the best way to defeat terrorism within Yemen's borders. This is vital not only to both our countries, but also to the Friends of Yemen."
During the remainder of his visit, Mr Burt will meet with other Government Ministers, and will have the opportunity to hear more from a variety of local community representatives and colleagues about how the UK and Yemen are working together on both developmental and security programmes in Yemen.
This visit and the fact that this is Mr Burt's first visit to the region, demonstrates the UK's continued commitment to working with Yemen, in particular through the Friends of Yemen process.
Published 22 June 2010