Press release
Minister for the Middle East visits region for bilateral and regional talks
Minister for the Middle East and North Africa, Tobias Ellwood, will visit the United Arab Emirates today and Saudi Arabia tomorrow.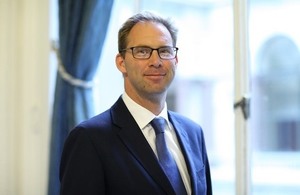 During his visit to Abu Dhabi, Mr Ellwood will attend the twice-yearly UAE – UK Joint Working Group Ministerial Taskforce with his counterpart His Excellency Dr Anwar Gargash, to discuss cooperation between the UK and UAE in a number of areas including trade, regional issues and UK participation in DubaiExpo2020.
In Saudi Arabia, Mr Ellwood will meet His Excellency Dr Abdullatif bin Rashid Al-Zayani, Secretary-General of the Gulf Cooperation Council, among other senior Government representatives, to discuss finding a political solution to the conflict in Yemen, and improving access for humanitarian relief in the country.
Speaking ahead of the visit, Mr Ellwood said:
The UK's partnership with the Gulf is an important one: as the Prime Minister said in her address to the Gulf Cooperation Council, Gulf security is our security, and we will be discussing areas where we can further cooperation. I will also be discussing the conflict in Yemen and making clear that an inclusive political solution is the only way to end the suffering of the Yemeni people. Finding a political way forward will not be straightforward and tough discussions need to be had, but the UK will do everything it can to support that process.
Further information
Published 22 February 2017