Press release
Minister for the Middle East Tobias Ellwood comments on the situation in Mosul, Iraq
Tobias Ellwood condemns ISIL's treatment of residents of Mosul and reiterates the UK's commitment to defeating this terrorist organisation.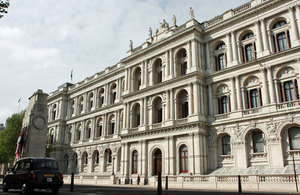 Speaking nearly 12 months after the fall of Mosul to ISIL terrorists, Tobias Ellwood said:
Nearly 12 months since the city of Mosul in Northern Iraq was taken by ISIL terrorists, we have heard once again about the horrendous treatment of the people of Mosul.

I am appalled by reports of the murder of hundreds of people, the ill treatment of women and the recruitment of children as young as 10 as soldiers, executioners and suicide bombers.

The UK, the wider Global Coalition and the Government of Iraq are committed to defeating these terrorists and have already supported the re-taking by Iraqi security forces of over 25% of Iraqi territory, including Tikrit. We have supported the liberation of key towns in Northern Iraq including Rabiyah and Zumar, broken the siege of the Yazidis on Mount Sinjar, and pushed ISIL out of Kobane.

As the second largest contributor to the Coalition military activities, the UK has flown over 870 missions, conducted over 265 bombing raids on ISIL targets, and is now providing an additional 125 soldiers to assist in Counter-IED training for the Iraqi Army helping them to clear territory safely and return it to local people.

Last week, we also announced that we would increase our humanitarian support to Iraq by £20 million, bringing our total contribution to £59.5 million, supporting people across Iraq who have been forced to flee from ISIL's brutality.
Further information
Published 9 June 2015