Minister for the Middle East meets Iraqi Minister of Human Rights
FCO Minister Alistair Burt met Iraqi Minister of Human Rights Mr Muhammad Al-Sudani on 12 January 2012.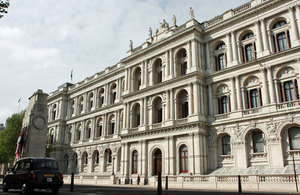 Mr Al-Sudani was in London to host a conference to highlight abuses and crimes against the Iraqi people carried out by the regime of Saddam Hussein. He briefed Foreign Office Minister for the Middle East Alistair Burt on the conference. The ministers also discussed the current political situation in Iraq and other issues, including the development of Iraq's human rights institutions and the situation of minority communities in Iraq.
At the conference, Mr Al-Sudani noted the steps the Iraqi Government has taken to investigate and excavate mass graves and to compensate the families of the victims of Saddam. Welcoming the Minister and delegates to the conference, Andrew Wells of FCO's Iraq Team said it was important to remember the victims of the former regime and highlighted the ongoing cooperation between the UK and Iraq in the field of human rights.
Published 13 January 2012