Minister for the Middle East discusses upcoming Gaza Flotilla
On a visit to Israel and the Occupied Palestinian Territories, Foreign Office Minister Alistair Burt said that the UK does not consider the flotilla as a "wise decision."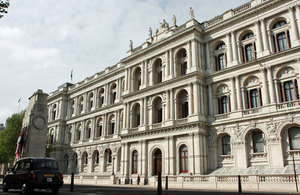 The FCO advises anyone wishing to send humanitarian assistance or other goods to Gaza to do so only through official crossings and established channels.
Speaking to various news outlets in the region Alistair Burt said:
"We do not advise UK nationals to go to Gaza. On account of the uncertain situation there, we do not believe that humanitarian supplies should be delivered by an attempt to land goods through a sea journey.
There are recognized ways to get humanitarian aid into Gaza which are supported by the Israeli authorities and the UN and anyone looking to make a humanitarian contribution should do just that.
I am not keen on the flotilla traveling. As I made clear, I'm sure there is a humanitarian intention behind many of those who take part in it, but there are ways to contribute in humanitarian ways and this has a clear political aim of challenging the Israeli authorities and people are entitled to make political gestures.
But the UK is also entitled to say whether they consider such gestures to be wise or not and we don't consider the flotilla gesture as a wise decision."
Published 29 June 2011