Minister for the Middle East condemns the killing of Meshaal Tammo in Syria
Minister sends condolences to the family of the Kurdish Future Movement spokesman & calls on all parties to refrain from violence.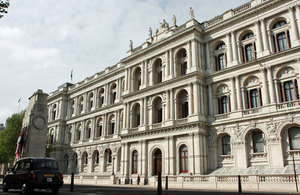 The Foreign Office Minister for the Middle East, Alistair Burt, has called for a full and transparent investigation into the killing of the Kurdish Future Movement spokesman, Meshaal Tammo, in Syria.
Mr Burt said:
"I strongly condemn the killing of Mr Meshaal Tammo on 7 October in Qamishli in Syria. On behalf of the British Government, I send my sincere condolences to Mr Tammo's family and friends.
"The loss of Mr Tammo is not only a personal one for them, but also for the Kurdish Future Movement of which he was a longstanding member and spokesman in Syria. The Kurdish Future Movement had just last week expressed its intention to work with the Syrian National Council towards a more democratic and open society in Syria which fully respects human rights.
"We deplore the circumstances of Mr Tammo's death and urge all parties to refrain from violence. I call on the Syrian authorities to ensure a thorough and transparent investigation of Mr Tammo's death so that those responsible are brought to justice. There needs to be accountability for all deaths that have occurred. The increasing spiral of violence adds to the growing sense of the loss of legitimacy of the Assad regime. It must end meeting protest with violence."
Published 9 October 2011