World news story
Minister for the Cabinet Office visits Israel
British Minister for the Cabinet Office Francis Maude visited Israel on 23 to 26 November.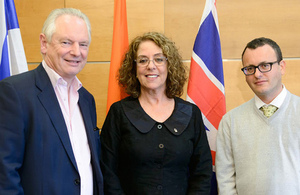 The focus of his visit was on enhancing UK-Israel cooperation on Digital Government and Cyber Security.
During the visit, Maude met senior Israeli officials, including Finance Minister Yair Lapid; Prime Minister's Office Director General Harel Locker; and the Head of the Israeli National Cyber Bureau, Dr. Eviatar Matania.
At a roundtable discussion organized by the UK Israel Tech Hub, Minister Maude met some of the most exciting local startups in cyber security, digital solutions and open government platforms, and learned how the UK might best collaborate with them.
Maude also visited Beer Sheva, where he discussed public-private cyber partnerships with Prof. Rivka Carmi, President of Ben Gurion University. He later visited CyberSpark, the university's fledgling Cyber Park, where he toured two Cyber labs, run by Israeli venture fund JVP and Germany's Deutsche Telekom.
In his meetings, Maude took stock of UK-Israeli cyber cooperation. The two governments have launched a joint £1.2 million cyber research fund, with results due to be announced shortly.
Speaking about his visit, Minister Maude said: "It was a pleasure to be back in Israel on my second visit as Minister for the Cabinet Office to see more of Israel's impressive cyber and digital innovation first hand. As part of our long-term economic plan, the UK Government wants Britain to be one of the safest places to do business online in the world. Both countries face enormous challenges in securing our cyber spaces and supplying the best digital services to our citizens, so cooperation between UK and Israel is of great mutual benefit.
"I am delighted that UK-Israel bilateral relations and cyber cooperation continues to deepen, including through the joint academic cyber research fund which we have established. We have also agreed that the UK and Israeli Computer Emergency Response Teams will further strengthen their relationship to enhance global cyber resilience."
Further information
The UK Israel Tech Hub at the British Embassy Israel helps drive economic growth in both countries by building a partnership in technology. The Hub's goal is to create partnerships in which British companies gain a global competitive edge via Israeli innovation, and Israeli innovation goes global via the UK.
UK Trade & Investment The commercial section at the British Embassy, Israel, is part of UK Trade & Investment (UKTI) – a British Government Organisation that helps business people and companies wishing to set up their business in the UK, and promotes trade between the UK and many countries around the world.
Contact information:
Sagi Or, Media Assistant, UK Israel Tech Hub, British Embassy Israel.
Tel: +972-50-5937467 Email: sagi@ukisraelhub.com.
Photo credit: Dani Machlis
Published 27 November 2014