Minister for Latin America visiting Uruguay 20-21 May
Foreign Office Minister Jeremy Browne will meet Government officials and key business people to strenghten ties between UK and Uruguay.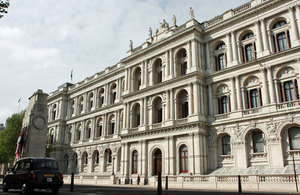 Jeremy Browne MP, FCO Minister for Latin America, will be visiting Uruguay from 20-21 May. He is the first Minister from the UK Coalition Government to visit the country.
The Minister will be meeting members of President Mujica's administration, including the Vice- President, Danilo Astori, Acting Minister of Foreign Affairs, Roberto Conde, and the Minister of Defence, Luis Rosadilla. He will also give a lecture to Diplomatic students at the Artigas Institute, and develop the trade and investment links between the UK and Uruguay by meeting key business people.
The Minister, who is responsible for the Olympic Games in the FCO, will meet authorities from the Ministry of Sport, the Uruguayan Olympic and Paralympic Committees, and members of the under-20 football team -who qualified for the Olympics- and other sports personalities ahead of the London 2012 Games. He will also visit the Football Museum - he is a keen football fan and is interested in visiting the "Home" of the World Cup. He will hand over a signed shirt and photographs of Geoff Hurst, who secured a unique place in the history of football when he became the first footballer to secure a hat trick in a World Cup Final, in 1966. The memorabilia will be added to the Museum's collection.
Search the news archive
Published 16 May 2011