Minister for human rights policy marks World Press Freedom Day
Foreign Office Minister Jeremy Browne has recorded a video message, which was screened at an event hosted by members of the UK National Commission for UNESCO and the UK Press Freedom Network on 3 May. Watch it here and read our blogs round-up.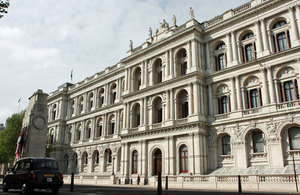 World Press Freedom Day takes place on 3 May 3rd every year, celebrating the fundamental principles of press freedom. With this year's theme of "21st Century Media: New Frontiers, New Barriers", the challenges of the new media have been at the heart of this year's activities. Foreign Office Minister for human rights policy Jeremy Browne recorded the following film to support the day.
Foreign Office bloggers around the world also marked World Press Freedom Day. Ambassador Dominic Asquith focuses on the significant changes that have taken place in Egypt and their media impact, praising the work of Egyptian journalists in reporting these significant events.
Ambassador Charles Lonsdale discusses the challenges to media freedom in Armenia, while Ambassador to Bolivia Nigel Baker talks about the risks reporters face, saying, "journalists suffer extraordinary pressure and, sometimes, pay the price of their lives for doing what they believe - bringing up to date and transparent information to the public, information that others would often prefer to be hidden".
Ambassador Stephen Lillie writes that "Press freedom is one of the paradoxes of the Philippines", while Ambassador to Hungary Greg Dorey says,"the UK has a reputation for respecting and encouraging freedom of expression". Digital Communications Manager Amelia Bate discusses "the right to write" with a focus on the changing digital landscape.
Published 4 May 2011