Minister for human rights policy discusses death penalty
Foreign Office Minister of State Jeremy Browne met the All Party Parliamentary Group for Abolition of the Death Penalty today.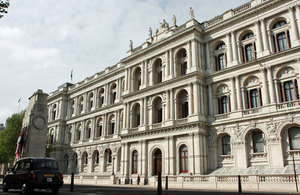 The meeting covered a number of issues including the use of the death penalty in the Commonwealth and how the group might effectively engage with pro-abolitionist parliamentarians in countries which retain the death penalty.
The UK opposes the death penalty in all circumstances as a matter of principle. On 11 October 2010 the UK Government launched our strategy on Global Abolition of the Death Penalty. Read the Executive summary here, or download the full strategy here.
Published 14 June 2011