Minister for human rights policy answers your questions on 2010 report
Foreign Office Minister Jeremy Browne has answered a selection of questions from the public on Human Rights and Democracy: The 2010 FCO Report. You can read and comment on the report online.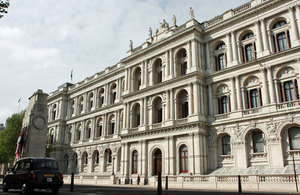 The Minister answered questions on a wide range of topics, including Bahrain, Cuba, Zimbabwe, LGBT human rights issues, the effectiveness of the report, what other countries report on human rights issues, and the selection of countries of concern for 2010. Watch the video below and read and comment on the report.
Human Rights and Democracy: The 2010 Foreign & Commonwealth Report takes a comprehensive look at human rights issues the FCO has been engaged with around the world in 2010. It highlights human rights violations and helps inform our work, and is the latest step in making more of our human rights reporting available online. The report features 26 countries of concern, with Chad, Eritrea, Yemen and Libya included for the first time in light of the human rights issues in those countries during 2010. It reflects how human rights are central to all of the Coalition Government's foreign policy priorities such as promoting Britain's prosperity and safeguarding our national security.
For the first time, we are publishing updates online every three months to highlight key human rights events and actions that take place in each of the featured countries of concern. The first of these quarterly updates covering the first months of 2011 is available online at www.fco.gov.uk/hrdreport. We are inviting users to comment on the report and read, share host the sections that interest them.
Published 21 April 2011