Minister for Human Rights hosts meeting of the Sub Group on the Death Penalty
Minister of State Jeremy Browne today held the second meeting of the Foreign Office's Sub Group on the Death Penalty.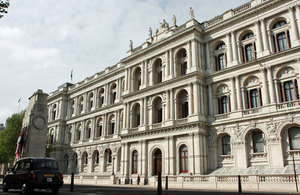 In discussions on the update to the Government's Strategy for Abolition of the Death Penalty, the Minister said:
"We are currently updating our death penalty strategy to take us to 2015. The key question is where should we seek to exert pressure for maximum effect".
The Sub Group on the Death Penalty was created as a sub group of the Foreign Secretary's Advisory Group on Human Rights. Its purpose is to allow the Government to gain advice from experts, including academics, legal professionals, NGO representatives and Parliamentarians in order to help shape the implementation of the UK's strategy towards abolition. The meeting today included discussion of minimum standards on the use of the death penalty and messaging on the death penalty. The first meeting of Death Penalty Sub Group took place in January.
Published 15 September 2011