Minister for Human Rights answers your questions on the death penalty
Following the launch of the UK's strategy for Global Abolition of the Death Penalty, Foreign Office Minister Jeremy Browne has answered questions posted on Facebook in a video message.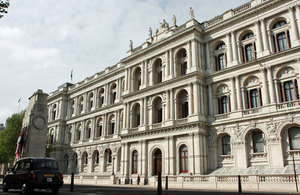 Since the Minister launched the strategy on Monday, members of the public have asked a wide range of questions on the death penalty via Facebook. These have been submitted on Facebook pages for the Foreign Office and many of our embassies around the world, along with those run by Amnesty International and Reprieve.
The Minister has answered a selection of the question on five main themes: why some states retain the death penalty; the Linda Carty consular case in Texas, USA; Islamic law and the death penalty; capital punishment in the USA; and whether working towards abolition is a waste of time and resources.
Published 15 October 2010