Press release
Minister for Europe welcomes the conditional release of Intigam Aliyev in Azerbaijan
David Lidington comments on the decision by the Supreme Court of Azerbaijan relating to human rights lawyer Intigam Aliyev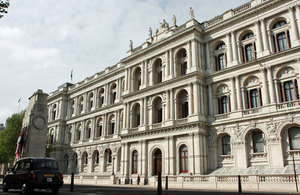 On 28 March 2016, prominent Azerbaijani human rights lawyer Intigam Aliyev was granted a conditional release from prison. This release closely followed the pardoning on 17 March of a number of prisoners in Azerbaijan whose convictions we considered to have been politically motivated. The UK has previously called for the release of Intigam Aliyev, and expressed our concern about the lengthy sentence which he was serving.
Speaking after the announcement, the Minister for Europe David Lidington said:
I welcome the decision by the Supreme Court of Azerbaijan to conditionally release leading human rights lawyer Intigam Aliyev. I urge the Government of Azerbaijan to build on the momentum created by this positive step and the pardons of 17 March. The United Kingdom is ready to assist the Government's efforts to further strengthen democracy and human rights in Azerbaijan.
Further information
Published 29 March 2016