Minister for Europe meets Prosecutor of the International Criminal Court
Minister for Europe David Lidington discussed Libya with Prosecutor of the International Criminal Court Luis Moreno-Ocampo on 10 March.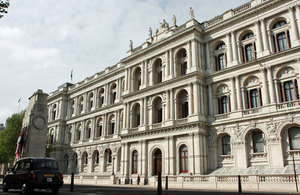 Following the meeting the Minister for Europe said:
"I was pleased to meet Luis Moreno-Ocampo again yesterday. The UK has always been a strong supporter of the International Criminal Court, which has established itself as a corner-stone of international justice. Its recent opening of an investigation into the Libyan regime has been welcomed by the UK, and during our meeting today I stressed to Mr Ocampo that the UK will do all it can to assist and support the ICC in this important work. The UK encourages the wider international community to cooperate with the ICC in the exercise of its independent judicial functions.
This is a reminder to the Libyan regime that anyone responsible for abuses or contemplating further crimes knows that there will be a day of reckoning. There will be no escape from international justice for Colonel Qadhafi."
The Minister for Europe met Mr Ocampo while on a visit to the Hague to build on the political and economic partnership between the UK and the Netherlands.
Published 10 March 2011