Press release
Minister for Europe meets Pavel Khodorkovsky
In a meeting with Pavel Khodorkovsky, Mr Lidington called for Mikhail Khodorkovsky to be released in August 2014.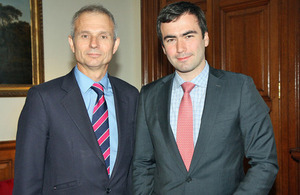 Minister for Europe David Lidington today met Pavel Khodorkovsky, son of Mikhail Khodorkovsky, who has been imprisoned in Russia for the past 10 years. Mr Lidington discussed Mikhail Khodorkovsky's experience of being convicted and imprisoned in Russia.
Minister for Europe David Lidington said:
It has been ten years since Mikhail Khodorkovsky was arrested. His experience revealed serious flaws in the Russian judicial process, and his case has rightly attracted international attention.
We have significant concerns about the processes used to convict Mikhail Khodorkovsky and continue to call for him to be released according to schedule in August 2014. This would represent a positive step towards demonstrating the fair application of law in Russia.
Further information
Follow Foreign Office Minister David Lidington on twitter @DLidington
Follow the Foreign Office on twitter @foreignoffice
Follow the Foreign Office on facebook and Google+
Published 10 October 2013