News story
Minister for Europe meets Belarus human rights defenders
Minister for Europe meets Belarus human rights defenders and strongly urges Belarus to work towards abolishing the death penalty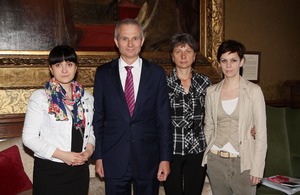 The Foreign Office Minister for Europe, David Lidington, met Belarus Human Rights Defenders Lyubov Kovalyova and Anastasia Dashkevich on 5 June.
Speaking after the meeting, the Minister for Europe said:
"I met Belarusian human rights defenders Lyubov Kovalyova and Anastasia Dashkevich and heard how they, and their families, have suffered as a result of the actions of the government in Belarus. Lyubov Kovalyova's son, Uladzislaw, was executed in 2012 following a trial that was widely criticised as failing to meet international standards. Despite repeated requests to the authorities, she has not been informed where he is buried. Anastasia Dashkevich's husband, Zmister, is one of a number of political prisoners in Belarus.
"I commended Lyubov Kovalyova and Anastasia Dashkevich for their bravery and assured them that the UK would continue to work to promote democracy, human rights and the rule of law in Belarus. I stressed that the UK opposes the death penalty in all circumstances as a matter of principle. I strongly urge Belarus to introduce a moratorium on executions immediately and work towards the abolition of the death penalty. I also call on the Belarusian government to release and rehabilitate all political prisoners"
Further information
Read more about our policy to promote human rights internationally
Published 6 June 2013