Minister for Europe "dismayed" by sentencing of opposition activists in Belarus
Minister for Europe David Lidington said the UK calls on the Belarusian authorities to release all political prisoners.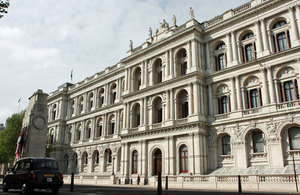 Speaking today the Minister for Europe said:
"I am greatly dismayed to learn that Zmitser Dashkevich, leader of the Belarusian youth organisation "Young Front", and Eduard Lobaw, another Young Front member, have been sentenced to two and four year prison terms respectively for "especially malicious hooliganism" by a court in Belarus.
"The circumstances surrounding their arrest, which took place the day before the 19 December Presidential election, are highly suspicious. The conduct of the trial itself has been deeply flawed with highly contradictory evidence being advanced by prosecution witnesses and no opportunity for the defendants to face their accusers in court. I also note that Mr Dashkevich's original lawyer was disbarred following pressure from the Ministry of Justice on the Minsk City Bar Council. This treatment of Mr Dashkevich and Mr Lobaw damages still further the tarnished reputation of the Belarusian judicial system.
"I want to make it clear that the UK considers both Mr Dashkevich and Mr Lobaw to be political prisoners, joining a long and growing list of such prisoners in Belarus. The United Kingdom calls on the Belarusian authorities to bring an end to this shameful course of events, to release all political prisoners and to drop all charges against those yet to be tried for the events connected with the 19 December protests."
Published 25 March 2011