Minister for Europe condemns Belarus executions
Minister for Europe David Lidington repeats calls to Belarus to end death penalty after serious questions surround latest executions.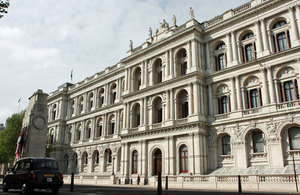 Speaking today following the execution of two men in Belarus, the Foreign Office Minister for Europe, David Lidington, said:
"I am deeply concerned by Belarus' decision to carry out the death penalty on two of its citizens, Dzmitry Kanavalaw and Uladzislaw Kavalyow. The UK strongly condemns all terrorism and deplores the deaths and injuries suffered in the bombing of the Minsk Metro on 11 April 2011. However independent reports have raised serious and credible concerns over the standard of evidence and fairness of the trial that led to the conviction of these two men for involvement in the bombing.
"The UK opposes the death penalty in all circumstances as a matter of principle and any miscarriage of justice leading to the death penalty is of course irreversible and irreparable. I strongly urge Belarus to introduce a moratorium on executions immediately and work towards the abolition of the death penalty, bringing it into line with its partners in Europe and the former Soviet region."
Published 18 March 2012