Minister for Europe concerned by reports of mistreatment of former Ukranian Prime Minister
Minister for Europe David Lidington has said he was dismayed by reports Yuliya Tymoshenko had been physically abused by prison staff.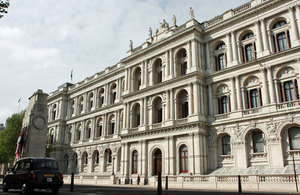 Responding to those reports, he said:
"I was dismayed to see reports that former Ukrainian Prime Minister, Yuliya Tymoshenko, had been physically abused by prison staff.
"I welcome the Prosecutor General's decision to investigate this case. It is imperative that these investigations are transparent and objective. I also note the Ukrainian Ombudsman's comments regarding Ms Tymoskenko's injuries. Any suggestion that prisoners are treated inhumanely is deplorable. I urge the Ukrainian authorities to seize this opportunity to demonstrate their commitment to EU principles and the rule of law.
"I am concerned to hear that Ms Tymoshenko is now on hunger strike, particularly in the light of her poor health and I hope that the EU Ambassador to Ukraine, accompanied by independent medical specialists, will be allowed to visit Ms Tymoshenko in prison. We call on the Ukrainian authorities to ensure that all in detention have access to necessary medical care."
Published 27 April 2012