Minister for Europe concerned about treatment of political prisoners in Belarus
Minister for Europe David Lidington called on Belarus to release all political prisoners and drop all of the charges against them.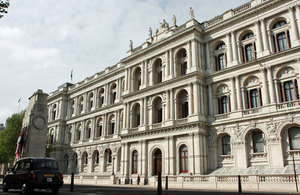 Speaking today the Minister for Europe said:
"I am very worried to hear of the reported ill treatment in detention of ex-presidential candidate Andrei Sannikov and Youth Front Leader Zmitser Dashkevich. Some reports have suggested that they are both experiencing life threatening conditions.
"We call on Belarus to reassure us - as a matter of urgency - that both men are receiving adequate medical treatment and are being treated in accordance with the International Covenant on Civil and Political Rights and of the Body of Principles for the Protection of All Persons under Any Form of Detention or Imprisonment, adopted by the UN General Assembly in 1988; and that their lives are not in danger.
"We again call on Belarus to release all political prisoners and drop all of the charges against them."
Published 28 September 2011