News story
Minister for Africa welcomes announcement of a two week ceasefire in Southern Kordofan
Minister for Africa Henry Bellingham has welcomed President Bashir's announcement of a two week ceasefire in Southern Kordofan state and called on the Sudan People's Liberation Movement to follow suit.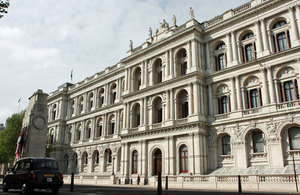 Speaking today the Minister for Africa said:
"I welcome the announcement from President Bashir of Sudan of a two week unilateral ceasefire in Southern Kordofan state. We have repeatedly voiced our strong concerns regarding the ongoing violent conflict in Southern Kordofan, and see this ceasefire as a positive move towards a lasting solution.
"I now call on the Sudan People's Liberation Movement (Northern Sector) to follow suit, and abide by the ceasefire. I urge both parties to allow immediate humanitarian access to the area, and to negotiate in earnest for a lasting settlement and peace in Southern Kordofan."
Published 24 August 2011