Minister for Africa visits Sierra Leone
Minister for Africa Henry Bellingham is visiting Freetown as the UK representative for Sierra Leone's 50th Anniversary of Independence Celebrations.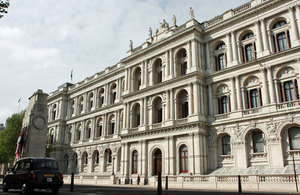 This visible sign of Britain's commitment to Sierra Leone's continued transition to a peaceful and stable democracy, demonstrates the ongoing partnership between the two nations.
The Minister will be meeting with Sierra Leonean Minsters and officials, British Businesses, the Special Court for Sierra Leone and experts in the security sector. The visit will highlight the importance to the UK Government (and Sierra Leone) of credible elections in 2012 and a well managed electoral process that the UK, alongside other international partners, will be supporting.
In light of the UK's prosperity agenda, meetings with senior Sierra Leoneans will be used to encourage development of a positive investment climate, and support the positive progress in tackling corruption and improving transparency - although there is more to be done. As Sierra Leone takes a greater role in regional affairs the Minister will also be keen discuss Sierra Leonean leadership, and UK partnership, in regional stability and counter-narcotics.
A busy and varied programme, including attendance at the 50th anniversary celebrations and the Queen's Birthday Party, will give an insight in Sierra Leone at all levels. We are excited that the Minister has agreed to write a special guest edition of our Freetown blog after his visit, giving an overview of his thoughts on the trip.
Published 26 April 2011