Minister for Africa strengthens ties with Nigeria and Ghana
Henry Bellingham has arrived in Nigeria, the first destination of a week long visit to west Africa.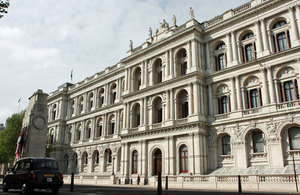 During his time in Nigeria, Mr Bellingham will travel to both the political capital Abuja and the commercial centre, Lagos. His visit is a demonstration of the National Security Council (NSC) led focus on the world's emerging powers. The key theme of the visit will be to promote greater commercial ties between the UK and Nigeria, and to explore the linkages between that and political and economic reform. The Minister will make a keynote speech on this topic to the Nigerian and Commonwealth business community in Lagos.
The Minister's visit comes at a critical time for Nigeria. Presidential and other elections will take place in Nigeria in April. Mr Bellingham will deliver strong messages on the need for peaceful and credible elections, and supporting strong and responsible Nigerian leadership in international fora, including the UN Security Council.
During the visit the Minister will advance the British government's ambitious plan for the UK-Nigeria trade relationship: doubling bilateral trade by 2015. He will meet young Nigerians from a deprived area of Lagos who have been doing internships and developing ICT skills with UKTI, and visit the sites of successful UK business in Lagos, including Guinness Nigeria. He will also have discussions with representatives of the financial and oil and gas sectors, as well as the State Government in Lagos - Africa's bustling megacity - and Federal Government in Abuja.
At the completion of his engagements in Nigeria, Mr Bellingham will then travel to Ghana, where he will meet President Mills and other senior politicians, deliver a speech at the Institute of Economic Affairs, and participate in a Radio interview.
Published 14 February 2011