News story
Minister for Africa statement on the situation in the DRC
Following the latest failure to implement the political agreement, the EU is now considering sanctions.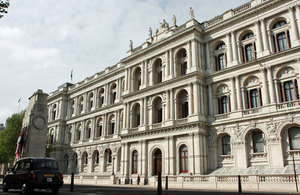 Minister Ellwood said:
I am deeply concerned by the continued delay in implementing the 31 December 2016 political agreement in the DRC. Without progress it will be impossible for credible elections to be held this year leading to an historic peaceful transition of power, as is clearly the wish of the Congolese people.

The work of the National Episcopal Conference of Congo (CENCO) to broker an agreement on remaining issues is highly commendable and so it is disappointing that the political parties failed to reach consensus by CENCO's deadline. EU Foreign Ministers are now actively considering sanctions against anyone blocking a peaceful solution, a move the UK fully supports.

I therefore call on all parties, and in particular President Kabila, to reach agreement as soon as possible. DRC's present and future is in grave danger; a peaceful transition can only be achieved if all sides show greater flexibility.
Further information
Published 29 March 2017