Press release
Minister for Africa statement on the Burundi dialogue
James Duddridge, Minister for Africa, expresses disappointment by postponement of the Burundi dialogue that was due to take place in Arusha next week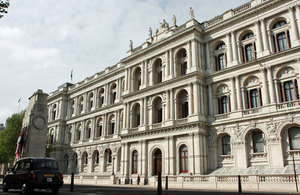 Minister for Africa James Duddridge said:
I am disappointed by the postponement of the Burundi dialogue that was due to take place in Arusha next week under the guidance of former-President Mkapa of Tanzania. I fully support the efforts of President Mkapa and his team and their goal of ensuring that this dialogue is for all Burundians.

I am extremely concerned at the recent increase in killings in Burundi, including the recent assassination of Brigadier General Athanase Kararuza and the attempted assassination of the Minister of Human Rights, Social Affairs and Gender, Martin Nivyabandi. I condemn all such attacks. I also condemn the ongoing human rights abuses, including torture and ill treatment by the security services. By refusing to engage in an inclusive dialogue the Government of Burundi is actively obstructing the national reconciliation process that will put an end to these crimes. I again call upon the Government of Burundi to engage in meaningful dialogue based upon respect for the Arusha Accords.
Published 29 April 2016