News story
Minister for Africa speaks on the arrest of Callixte Mbarushimana
Minister for Africa Henry Bellingham gives a statement on the arrest of Callixte Mbarushimana on charges of war crimes and crimes against humanity.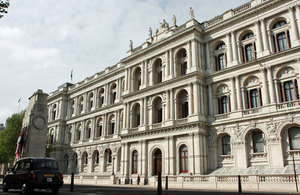 I welcome the news that Callixte Mbarushimana has been transferred to the International Criminal Court in The Hague, where he will face serious charges of war crimes and crimes against humanity allegedly committed in the Democratic Republic of Congo (DRC). This follows his arrest on 11 October 2010 by French authorities.
This is the first arrest made by the ICC as part of its investigation in the Kivus region of DRC. But atrocities continue to be perpetrated, such as the mass rape in Walikale. We encourage the Government of DRC to continue to work to put a stop to these crimes and to end impunity for all human rights abuses.
Mbarushimana was arrested as a result of close co-operation between the ICC and the judicial authorities in France. I encourage all ICC States Parties to provide the Court with full co-operation; something re-iterated at the ICC Review Conference in June 2010.
Published 26 January 2011