Minister for Africa speaks ahead of elections in Democratic Republic of Congo
Minister for Africa Henry Bellingham said the UK is committed to helping DRC to hold free, credible and peaceful elections, as campaigning begins.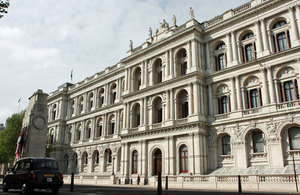 Speaking today the Foreign Office Minister said:
"At the start of election campaigning in the DRC, I urge all candidates and their supporters to pursue their political goals peacefully and avoid inflaming tensions. These elections offer a real opportunity to build a democratic tradition in DRC and are an important milestone to lasting peace and prosperity.
"The UK is committed to helping DRC to hold free, credible and peaceful elections that reflect the will of the Congolese people. Our support includes funding voter registration and voter education programmes as well as helping to build the capacity of the new electoral commission. We hope to encourage as wide a participation in the elections as possible. We and our partners are working to ensure that a high-quality network of observers will be in the DRC before, during and after the election, including an EU Election Observation Mission."
Published 27 October 2011