Minister for Africa offers condolences after the death of a journalist in Somalia
Minister for Africa Henry Bellingham has spoken of the ongoing struggle for press freedom around the world after Somali journalist Farhan James Abudlle was killed.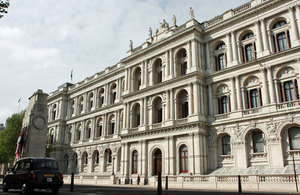 "This shocking murder tragically underlines the ongoing struggle throughout the world for press freedom and I offer my condolences to Farhan James Abdulle's family and friends. It is particularly distressing to see further violence against journalists in Somalia. This is the fifth murder in 2012 in Somalia, which is one of the most dangerous places in the world for journalists to work. I pay tribute to journalists there who are tirelessly campaigning for free speech.
"I echo the statement issued by the Foreign Secretary to mark World Press Freedom Day that we condemn all violence and intimidation against journalists throughout the world."
Published 3 May 2012