Minister for Africa meets Kenyan Foreign Minister
Minister for Africa Henry Bellingham discussed strengthening commercial ties between the UK and Kenya in his meeting with the country's Foreign Minister on 2 August.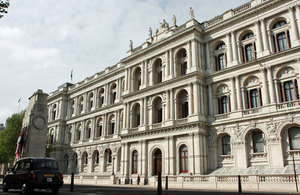 Commenting on the meeting, which took place following the successful Kenya Investment Summit at Mansion House on 31 July, the Foreign Office Minister said "the commercial relationship is at the heart of our bilateral relationship. The UK remains the biggest cumulative investor in Kenya. I am determined to build on that."
The ministers also discussed how the international community could support Somalia to achieve peace and stability as the end of transition approaches on 20 August.
Published 2 August 2012