Minister for Africa discusses future of Sudan with Archbishop of Southern Sudan and Archbishop of Canterbury
Minister for Africa Henry Bellingham today met the Archbishop of Southern Sudan, the Most Revd Daniel Deng and the Archbishop of Canterbury, the Most Revd and Right Honourable Dr Rowan Williams for talks on Sudan and next year's referendum.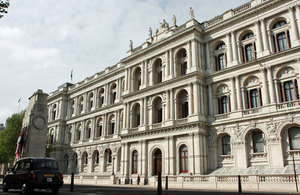 During the meeting Archbishop Daniel Deng welcomed the support that the UK was providing to the people of Southern Sudan, but warned that tensions were high in the run-up to the referendum due in January 2011.
Henry Bellingham reinforced the UK's commitment to Sudan at this crucial time, highlighting our lead role in the UN and the significant humanitarian and development assistance the UK provides to Sudan. The Minister also spoke about his own visit to Sudan in July, and acknowledged that much needed to be done to allow the referendum to be held on time. Many unresolved issues between North and South needed to be addressed regardless of the result.
Speaking after the meeting, Henry Bellingham said:
This is a crucial time for Sudan. The international community is united in wanting to see a credible referendum which reflects the will of the people of Southern Sudan.

Sudan's Churches have a network and relationships with people across the whole of the South and can make a key contribution to making the referendum a success. We will continue to work closely with them.
Published 7 October 2010