Minister for Africa deeply concerned by ongoing violence on border of Sudan & South Sudan
Minister for Africa Henry Bellingham has called on all parties to stop fighting and return to a political process following continued violence in the border regions of Sudan and South Sudan.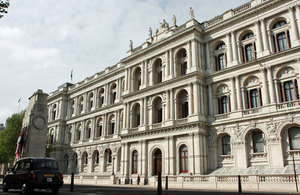 Speaking today he said:
"I remain deeply concerned at the continued conflict in the border regions of Sudan and South Sudan, and at the plight of civilians caught up in the fighting in Southern Kordofan and Blue Nile. I call again on all parties to the conflicts in those two states to stop fighting and return to a political process, and to allow full humanitarian access to the people affected. I urge the Government of Sudan to stop bombarding civilian areas immediately, and the Government of South Sudan to stop providing military support to the Sudanese People's Liberation Movement (North). I call on both governments to take steps immediately to fulfil their commitment to establish a safe demilitarized border zone, to be jointly monitored by UN peacekeeping forces and the armed forces of both countries. Such a measure would serve to calm tensions and bring immediate benefit to the people living on either side of the border."
"The current circumstances make it all the more important that Presidents Kiir of South Sudan and Bashir of Sudan meet as planned in early April. It will be important that at that meeting the two Presidents sign the agreements on border demarcation and citizenship that were negotiated by their teams in Addis Ababa. The meeting is also essential to sustaining the momentum in seeking to reach agreement on all other areas of difference, including oil and the status of Abyei . Final agreement on these issues will contribute to the security and prosperity of the people of both countries".
Published 23 March 2012