Minister for Africa comments on Floribert Chebeya murder trial verdict
Foreign Office Minister Henry Bellingham has released a statement following the verdict in the Floribert Chebeya murder trial in the Democratic Republic of Congo.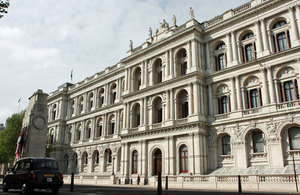 Minister for Africa, Henry Bellingham said:
"The murders of Floribert Chebeya and Fidele Banzana underline the pressures faced by human rights defenders in the Democratic Republic of Congo on a daily basis. The United Kingdom hopes that the convictions of five policemen responsible for their murder, handed down yesterday, will mark an important step in the fight against impunity.
We continue to call upon the DRC authorities to ensure that all those responsible for this terrible crime are brought to justice. In terms of the sentence handed down, we call upon the Congolese Government to ensure that the death sentences are commuted."
Published 25 June 2011