Minister for Africa comments on agreement about Eastern DRC agreed in Kampala today
Minister Mark Simmonds has commented following an emergency summit of the International Conference of the Great Lakes Region in Uganda today.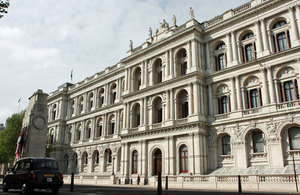 The Minister returned yesterday from an urgent three day visit to Uganda, Rwanda and the Democratic Republic of Congo (DRC). Violence has been escalating in Eastern DRC and the situation on the ground there has continued to evolve.
Speaking today, he said:
"Today's summit offered a major opportunity for the three Presidents, of DRC, Rwanda and Uganda together with their partners in the region, to once again demonstrate their determination to end this crisis, and to seek new ways to resolve the underlying causes of conflict.
"I am pleased that the summit resulted in a 10-point Communique, specifying long and short term actions to be taken by all parties, but crucially including a renewed call for the M23 to leave Goma without delay. Clearly, an important test will now be whether that happens or not. We will study the Communique and its implications carefully over the coming days, including what more we and the rest of the international community should do to support ongoing regional efforts to resolve the current crisis in a sustainable way".
Published 24 November 2012