Press release
Minister for Africa calls for leadership in South Sudan talks
Mark Simmonds calls for immediate ceasefire and lasting peace as South Sudan faces risk of famine.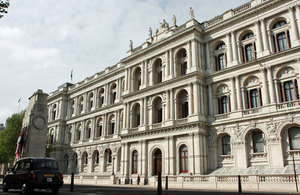 Ahead of the planned restart of the South Sudan peace talks in Ethiopia, Minister for Africa Mark Simmonds MP is calling on all parties to the talks to negotiate in good faith, recognising the terrible humanitarian consequences if South Sudan's leaders cannot find a sustainable path to peace.
Minister Simmonds said:
I welcome the upcoming restart of peace talks under the leadership of the Intergovernmental Authority on Development (IGAD). It is vital that all participants engage fully and constructively in this process and find a solution that benefits all the people of South Sudan.

First and foremost, the talks must mean that fighting ceases – this time for good. I join with IGAD in condemning the outbreak of violence that occurred in Nasir last week, a further dangerous departure from the cessation of hostilities.

However, the talks must go beyond just ceasefires and set the framework for the lasting peace and good governance that South Sudan so desperately needs. The humanitarian situation in that country is already at crisis point with more than 1.5 million people displaced. Without serious action it will deteriorate yet further. The UN estimates 4 million people are facing crisis or emergency food insecurity levels now. Famine is a very real possibility.

The UK has already allocated £95m to the humanitarian response to the crisis in South Sudan and its neighbours, and is working in close coordination with our international partners, UN agencies, and the wider development community to support those in great need. We will continue to do so, and call on other members of the international community to play their part.

But ultimately responsibility for finding solutions lies with the South Sudanese. If famine comes it will be man-made, the result of months of conflict that has driven people from their land in fear. The people of South Sudan deserve leaders who will listen, negotiate in good faith, and bring peace. In the next two weeks President Kiir, former Vice President Machar and the other parties to the talks have the chance to show they have precisely that. I call on them to set aside their differences and do so.
Further information
Follow Foreign Office Minister Mark Simmonds on twitter @MarkJSimmonds
Follow the Foreign Office on twitter @foreignoffice
Follow the Foreign Office on facebook and Google+
Published 31 July 2014