Press release
Minister for Africa attends UN debate on Great Lakes
Minister for Africa tells UN meeting that the Great Lakes governments must work together to deliver long-term peace and prosperity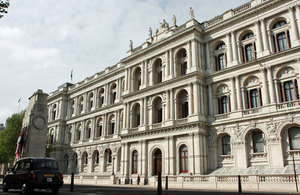 James Duddridge, Minister for Africa, visited New York on 21 March to attend the UN Security Council's Open Debate on the Great Lakes. The Debate came at a critical time for the region with instability and violence continuing in Burundi and the election process off-track in the Democratic Republic of Congo (DRC).
While in New York Mr Duddridge took the opportunity to meet with Ambassador Smail Chergui, African Union Commissioner for Peace and Security, to discuss a range of issues including the situation in Somalia, DRC, Burundi and African peacekeeping missions. The Minister also met with Jamal Benomar, Special Adviser to the UN Secretary-General and UN lead on Burundi, and Said Djinnit, UN Special Envoy for the Great Lakes Region. In a meeting with Raymond Tshibanda, Foreign Minister of the DRC, the Minister emphasized the importance of holding elections this year in line with the constitution and resumption of joint operations between the DRC Armed Forces and MONUSCO (United Nations Organization Stabilization Mission in the DRC).
In his statement during the Open Debate Mr Duddridge said:
Bringing peace to the Great Lakes area has been one of the most difficult challenges faced by this Council. Decades of violence and chaos have left millions dead; millions without hope or indeed a home; millions vulnerable to attack from armed groups. The UN Charter pledges to save successive generations from the scourge of war. In the seventy years since collectively we've made this pledge, nowhere has it rung more hollow than in the Great Lakes region.

The United Kingdom believes in the enormous potential of the countries and the people of the Great Lakes. That is why we have maintained our strong friendships and support. But their fates are inextricably linked, so their governments must work together if this potential is to be realised.

I urge leaders of the region to play their part in bringing peace, making the measures set out in the Peace and Security Cooperation Framework a reality, uniting to build long-term peace and prosperity. As they strive to do so, the people of the Great Lakes will have the full support of the United Kingdom.
Note to editors
The full text of the Minister's statement can be found here
Further information
Published 23 March 2016