News story
Minister "dismayed" at verdict in Bahraini activists' appeal
Foreign Office Minister Alistair Burt, has called on Bahrain to guarantee its citizens' fundamental liberties.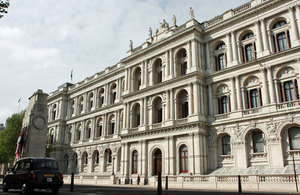 The Bahraini Cassation Court today upheld the sentences of 13 activists for their part in anti-government protests in 2011. Commenting earlier, Alistair Burt said:
I am deeply dismayed at the decision of the Bahraini Cassation Court to uphold the sentences of 13 political activists in today's appeal hearing. At the time these individuals were sentenced, reports which were acknowledged by the Bahrain Independent Commission of Inquiry suggested that some had been abused in detention, denied access to legal counsel and were coerced into confessing. I call on the Government of Bahrain to meet all its human rights obligations and guarantee its citizens the fundamental liberties to which they are entitled.
Further Information
Minister comments on Bahrain Independent Commission of Inquiry
Published 7 January 2013