News story
Minister contributes to Kosovo campaign on sexual violence
Baroness Anelay meets Kosovo Ambassador, reinforces support for campaign to remember victims of sexual violence during the Kosovo conflict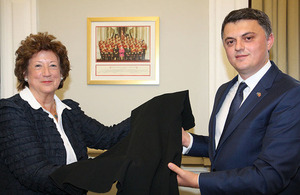 Baroness Anelay today presented the Ambassador of Kosovo, Lirim Greicevci, with her contribution to a powerful installation by British-Kosovan artist Alketa Xhafa dedicated to the victims of sexual violence in the Kosovo conflict. The Minister's contribution reinforced the UK's campaign to end sexual violence in conflict and ensure that survivors receive the recognition and support that they need.
Speaking following her meeting, Baroness Anelay said:
I am delighted to have the chance to make my own contribution to the inspirational 'Thinking of You' installation in Pristina. Alketa Xhafa's installation will serve as a powerful reminder of those lives irrevocably altered by the scourge of sexual violence in conflict; and of the need to end sexual violence as a tactic of war once and for all.

As the Foreign and Commonwealth Office minister who is responsible for driving forward the UK's Preventing Sexual Violence Initiative, I am pleased to support the leadership of the Kosovan President Atifete Jahjaga in championing her country's work on tacking this once taboo issue. Learning from the horrors of the past, and driving a cultural shift in attitudes towards victims and their experiences, is crucial to our work to ensure they are never repeated in the future.
Further information
The 'Thinking of You' installation will be located in Pristina's central stadium, and is formed of 10,000 skirts, representing victims of sexual violence during the Kosovo conflict. The skirts will be installed in the stadium on Friday 12 June, marking the anniversary of the end of the 1999 conflict in Kosovo.
Baroness Anelay contributed her own skirt worn at the 2010 State Opening of Parliament, where the Minister acted as Captain of the Gentlemen at Arms, only the third time a woman has held this position since created in the 16th century. The Minister's contribution mirrors those of other prominent public figures, including that of Kosovo-born singer Rita Ora.
Published 8 June 2015