News story
Minister condemns bomb attack in Mogadishu
Mark Simmonds: Terrible bomb attack in Mogadishu shows how important regional peace and stability is ahead of Somalia Conference.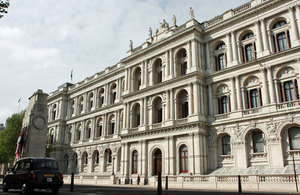 Responding to the bomb attack in Mogadishu today, Minister for Africa, Mark Simmonds said:
"I strongly condemn today's attack on a vehicle convoy at Kilometre 4 junction in Mogadishu. My thoughts are with the families of the victims and those injured. Incidents such as these demonstrate the importance of the Federal Government of Somalia and international partners working together to combat violent extremism in Somalia.
"Next week's Somalia Conference in London, co-hosted by the UK and the Federal Government of Somalia will provide international support to help build Somali capacity to increase peace and stability."
Further information
Follow @foreignoffice on twitter
Published 5 May 2013