Minister challenges councils to find land for self-builders
Planning Minister Nick Boles challenges councils to find land for local people to build their 'Grand Design'.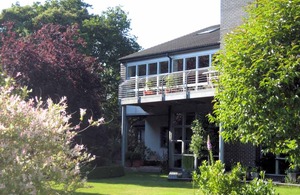 Councils were challenged to step-up to help boost housebuilding by finding land for local people to build their 'Grand Design' by Nick Boles today (7 May 2013).
The minister said he was determined to help families who aspire to self-build and create their dream home.
Speaking at Grand Designs Live during National Self-build week, the minister praised councils such as Bristol Council, who have already taken significant steps to identify suitable pieces of land for self builders in the city.
The government is already making it easier for people to build their own home by exempting self-builders from paying thousands of pounds on a levy charge that must be paid for all new buildings over a certain size.
The UK has the lowest level of self build homes in Europe, where more than 80% of homes are self build in Austria and more than 50% are in Scandinavia, Germany and Belgium.
Planning Minister Nick Boles said:
We urgently need to build more homes and now is the time for councils to act and earmark areas that encourage people to buy a plot of land and get a builder to build them a home.

We are determined to help families fulfil their dream of building their own home and are keen to work with the industry to showcase those councils leading the way in making specific sites available for self build, so aspiring homeowners can turn their plans into a reality.
Housing Minister Mark Prisk said:
I would urge councils to support aspiring self-builders in their area by considering their needs as they develop their local plans.

We're determined to ensure anyone who wants to build their own home to have the opportunity to do so, which is why we've made £44 million available to help get their self-build projects off the ground, and why our proposed changes to the Community Infrastructure Levy will exempt self-builders, potentially saving them thousands of pounds.
The self build industry turns over approximately £3.6 billion a year, protects and creates thousands of new construction jobs and boosts local economies.
Identifying sites for self-build
The following local authorities are leading the way on identifying specific sites for self-build:
Bristol City Council
Bristol have pledged to make public land available for self build and called for architects to come up with ideas on how self build could improve housing supply in the city. A former school site has already been made available to the Bristol Community Land Trust; who are also looking at an office building in the centre of the city that could be converted to around 20 self finish apartments
Cornwall
Local organisations such as the Cornwall Community Land Trust and Lands End Peninsula Community Land Trust are helping self build groups bring forward schemes in the county.
Cherwell
The Council have established the 'Build!' initiative which will provide 250 homes across the district through a combination of initiatives involving the renovation of empty homes, providing serviced plots and making it easier to self-build.
Derby
Osmaston Community Association of Residents in Derby is a resident led association that is planning 200 new homes, some of which could be self builds, on a former Rolls Royce factory site in the city.
Newcastle
Newcastle City Council is extremely proactive in promoting self build. The City Council's Fairer Housing Unit is exploring options for using an element of the Council's £25 million Future Homes Fund to assist the delivery of self build and co-operative housing across the city.
The Ouseburn Development Trust is also working with residents to deliver self build work/live units in the Ouseburn Valley and Persimmon Homes have recently announced plans to deliver 39 serviced self build plots at the Newcastle Great Park development.
Cambridgeshire
Self build is being brought forward as part of the first phase of the new town of Northstowe, located just north east of Cambridge. The current proposals indicate plans for 150 self build units. 'K1 Cohousing Project' at Orchard Park, will also provide around 40 new self build homes for local families. The scheme is currently being designed by residents and a support team of dedicated professionals.
Teignbridge
The council is taking action to support self build by requiring a proportion of self build plots to be provided in all large developments, supporting Neighbourhood Plans seeking to deliver multiple self build plots and working with affordable housing providers to provide affordable eco-friendly self build plots for local people in housing need.
Shropshire
Shropshire has adopted 'Build Your Own Affordable Home' policies, where people in need of housing are able to apply to build a house. The policy has created 10% of the affordable housing in the area.
Published 7 May 2013
Last updated 7 May 2013
+ show all updates
Fixed typo

First published.