Press release
Minister challenges business leaders to address gender inequality
"Help working dads juggle their responsibilities," says Jo Swinson, Women and Equalities Minister.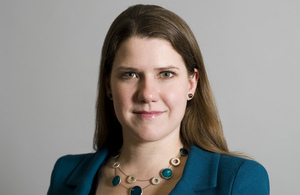 Equalities Minister Jo Swinson told an audience of City of London business leaders yesterday (20 January 2015) that the evidence is clear that more men want to be involved in family life, and called on their help to bring about social change.
Citing a new Government Equalities Office seminar report, Jo Swinson said:
Evidence shows that many working dads want to be more involved in family life. Many men have said they are wary about taking up shared parental leave or asking for flexible working because it might negatively affect their career. Working mums know this dilemma all too well.
We need employers to take steps to ditch the parenting penalty in the workplace. Helping new parents negotiate the balance between their work and family responsibilities, by promoting shared parental leave and enhancing shared parental pay, for example, will benefit employers through greater staff retention and loyalty.
The minister also cited recent research published by the Department for Business, Innovation & Skills that shows a move away from the old attitude that the bulk of childcare responsibilities should be borne by the mother. The research found that the majority of the public now believe that childcare should be shared equally between parents. Fifty three per cent of those questioned said that childcare should be the equal responsibility of both parents, while a further 22% believe that a couple should have the right to choose how they divide caring responsibilities.
Jo Swinson made her comments, which were based on the findings of a Government Equalities Office policy seminar, at a breakfast event co-hosted by Barclays and the Women's Business Council. The event, at Barclays, brought together over 100 business leaders, academics and experts to discuss ways to engage men and boys in the campaign for gender equality.
Equalities Minister Jo Swinson said:
It's heartening to see this event so well attended by men.
Gender inequality hurts men as well as women. We need you - dads, brothers, sons and friends - to speak up when you see sexism, engage in this discussion and be willing to recognise and challenge gender discrimination at work and at home.
Notes to Editors
The Women's Business Council event, 'Male business leaders as champions of change: engaging men in gender equality', was co-hosted by Barclays at the Barclays office in Canary Wharf on Tuesday, 20 January. The speakers were:

Jo Swinson MP, Women and Equalities Minister (keynote)
Mark Q. McLane, Global Head of Diversity and Inclusion at Barclays
Martin Robb, Open University
John Timpson CBE, CEO of Timpson Ltd and member of the Women's Business Council
Larry Hirst, former chairman of IBM EMEA

The Department for Business, Innovation & Skills research was carried out by Opinion Matters and was published on Tuesday, 13 January.
Published 21 January 2015